Take off from Jackson Hole Airport for a private scenic tour of Jackson Hole, Teton Valley, Star Valley or more. Considered one of the most beautiful areas in North America, you will see Jackson Hole and it's mountains, rivers and valleys from the Bald Eagle's point of view. See more of Jackson Hole in one hour from the air than you could see in a lifetime on the ground, and get a whole new perspective on Jackson Hole, it's beauty and wilderness. From the air you will see in an entirely new dimension what makes Jackson Hole such a magnificent area!
Enjoy the new state-of-the-art scenic aircraft, and pilots are FAA Commercial-rated long-time valley residents with years of local knowledge and Jackson Hole flying experience. Your pilot will customize your flight and routing. Bring your cameras and video to capture incredible views of a lifetime!
Jackson Hole's Scenic Charter Aircraft:
The 2008 Cessna Turbo 206 Stationair
Introducing the newest Jackson Hole aircraft!

The new 5-passenger high-performance aircraft features leather reclining seats, large view windows and in-flight Sirius/XM Radio. This state-of-the-art aircraft boasts the latest in safety and avionics similar to business jets including Garmin G1000 glass cockpit, traffic and terrain alerting, weather uplink, extended range tanks and even a cargo pod for additional baggage capacity! It can also be chartered for flights around the region and western U.S.
Jackson Hole's Charter Aircraft is owned by New Flight Charters and operated for charter by Centurion Flight Services under FAA Air Carrier Certificate # CCJA746C, who maintains full operational control of the aircraft for all scenic flights and charters. Centurion has been operating safe and efficient air charters with experienced pilots since 1983.
All passengers have large view windows, leather seating, premium Bose headsets with Sirius/XM Radio, and can talk freely with everyone in the plane throughout the flight. Your pilot has been living and flying in Jackson Hole over 20 years, is a wealth of local knowlege and will customize your flight for you. It's a premium Jackson Hole experience that will literally broaden your horizons of this magnificent area.
FAQ:
Q: What should we bring to the flight?
A: Bring cameras, video cameras, comfortable clothes and a light jacked depending on the weather.
Q: How early should we arrive to the airport?
A: Arrive to the airport 15 minutes before your scheduled flight, your pilot will meet you in the executive terminal lounge.
Q: When are the best times to schedule a flight?
A: In the summer, typically mornings have clearer skies, smoother air and better sun on the Grand Tetons. For the best experience we recommend morning scenic flights.
Q: How many people can we bring?
A: The aircraft can seat 5 passengers weighing a maximum 900 pounds total. For comfort we recommend 4 adults, or 3 adults plus 2 children/smaller adults. The third row seats will be tight for 2 adults.
Q: Can we fly the plane?
A: As a charter flight, by regulation the pilot must be at the controls the entire time. Instructional flights are available, contact us for more information.
Q: Can we tour Yellowstone or Grand Teton National Parks?
A: FAA and National Park regulations do not allow low altitude scenic flights operated over either park.
From outside Park boundaries though you will see the entire Grand Teton National Park, the Grand Tetons at eye level, and the region's mountains, rivers and wilderness as your pilot customizes your flight. The aircraft must stay outside park boundaries at lower altitudes except for takeoff and landing. Flights comply with the National Parks Air Tour Management Act of 2000, wilderness area flight regulations and noise-sensitive areas of Grand Teton National Park.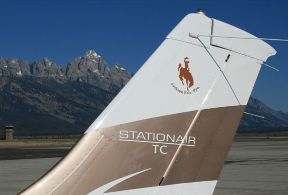 Q: What flight lengths are available?
A: Standard flights are between 1 and 2 hours. The longer the time, the further you can explore, and many other nearby scenic areas becon: Teton Valley, Star Valley, Gros Ventre Mountains, Bridger-Teton Range and Wind River Range, the Absarokas, Towgotee Pass, plus all of the hidden lakes, rivers and wilderness.
Q: When is best to schedule the flight?
Typically in the summer, mornings have clearer skies, smoother air and morning sun on the Grand Tetons. For the best experience possible we recommend morning scenic flights.
Q: What forms of payment do you accept?
A: You may pay by Visa, Mastercard, American Express, or via bank wire.
Q: How Safe is the Airplane?
A: The late model 2008 Cessna T206 receives the industry's highest level of routine and preventative maintenance. It is FAA certified, and receives regular inspections and maintenance by an FAA-Certified Airframe and Power Plant Mechanic. It is maintained to FAA Part-135 charter standards which are similar to Airline standards. In addition the Cessna 206 Stationair is a popular and proven model, in production with continuous upgrades for over 45 years. Your pilot is a professional multi-thousand hour, Commercial-rated Certified Flight Instructor and Jackson Hole local who has been flying this region for over 20 years.
CALL TO SCHEDULE
Call now to schedule your Jackson Hole Scenic Flight (307) 734-7751.